Excerpts from AKES,T's Policies & Procedures Manual (revised September 2000)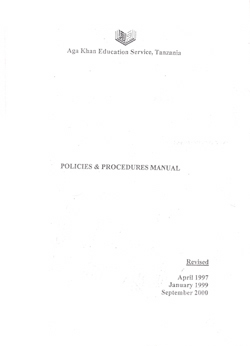 This section refers to passages in the AKES,T Policies & Procedures Manual that was made available to staff at AKMSS. Staff were told by Laura Swash, the Head of School, to familiarize themselves with the manual.
It should be noted that the report of the team that conducted the site visit of AKES,T's three schools in Dar es Salaam between 6 March and 10 March, 2006 states the following:
"A Policy Manual should be written, which covers such topics as employment issues, a well designed professional development plan, and the roles of Board members, administrators, and teachers."
The passages cited here show what the policies in effect at AKES,T and AKMSS were supposed to be during our tenure there. These policies can usefully be compared to what happened to us at AKMSS, as presented in the In Situ and Aftermath sections of this website.
The Introduction to the Manual states that "[t]he use and distribution of this manual for any purpose other than the Network use is strictly prohibited". Therefore, we have not reproduced any of the pages here. Instead, we simply quote from sections that are relevant to the situation we found ourselves in at AKMSS.